Think globally, skate locally. By Matthew Mc Guire

What do Kuala Lumpur, Rio de Janeiro, Singapore, Estonia, Chandigarh-India and Stillwater-Minnesota have in common? They're all locations for this weekend's "Skate Around the World in 24 Hours".
Matt McGuire skated 26.6 KM in Hour 8 (North America's Central Time Zone) of the global skate which started today at 9:00 AM Greenwhich time. Each hour for 24 hours is being skated by someone, somewhere around the world with total kilometers completed being recorded and tallied as a fundraiser for UNICEF—the United Nations Children's Fund. "Ambassadors" can donate 1 Euro per KM per skater.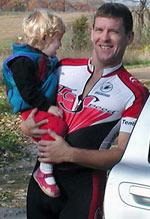 Matt says: "Clemens Suerbaum, a skater from Munich, has created a really compelling reason to skate this weekend. There's a natural connection between athletes that occurs at international events. Our sports tie together otherwise disparate individuals. Clemens' idea of a global team is a perfect representation of that, and it shows the value of having a broader world-view. It's a view that includes the United Nations and their work to protect and help children.
I remember as a kid going trick-or-treating for UNICEF, and I'm glad to see that it's a program that still running. I'd encourage parents to involve their kids this year. At a time when the US is, as a matter of policy, moving away from global alliances, it's refreshing to be a part of an idea that dares to think that a small group of people from around the world could possibly make a difference. But of course we can't without your help. So look at UNICEF (again) and donate what you can. Thanks.
And a big thanks to primary sponsors Adams Inline and St. Croix Orthopaedics."

See you on the trail.