Munich, Germany: Hour 9 of 24skate#6


Usually you never can trust weather forecast on Tuesdays for Saturday. But for the 24skate there was an exception: Tuesday forecast for the weekend (sunny, warm, dry) remained stable and turned out as true, finally.

Nevertheless conditions were a little bit windy and my traditional 24skate venue for kilometer crunching is the Octoberfest beer festival area, which is wide open and wind-prone. Together with my ascension holidays without any skating for almost two weeks this was not the best setting to out-perform my previous appearances. On the positive side was my joy that again enough skaters could be found to cover all 24 hours.

This time I took a route on this area with better tarmac and an exact length of 1 km per lap. This soon showed me after the first few laps, that I will need another try next year to cross the 30km/h barrier. So I made plans for the next 24skate in the remaingin laps and ended up with a quite reasonable result: Almost exactly 28 km/h.

If the new cheap (ebay) cover of my mobile phone had a planar camera window and did not distort the pictures, then you could decipher the display of my GPS device in front of the Bavaria (which looks like a small version of the Statue of Liberty). But it anyway was a bit dark already.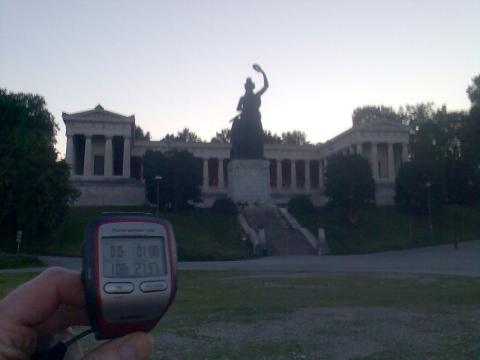 My regular ice cream parlor was still open nevertheless, but I had forgotten to bring money with me, so I will have to wait for my next ice cream also until the next 24skate in 2010...

Best regards
Clemens

History of this page:
20th of June 2009: First version